Paving Plus sells a range of specialty accessories for paving, Brick and Countrystone requirements. From Cleaning, Sealing, Grout Guns, Adhesives .
We supply a selected range of sealing products for pavers and walls. We have sealers for Natural Stone (including Travertine, Sandstone, Granite & Limestone), Clay pavers, Concrete pavers and anti-graffiti sealers. We only supply quality brands at discount prices.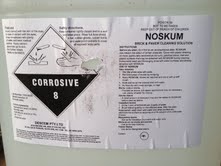 We supply Noskum, an effective brick cleaning chemical
"Noskum is effective in the removal of most insoluble white stains that may appear on the surface of fired clay bricks after cleaning with hydrochloric acid. It is also effective in the removal of other stains such as: vanadium, manganese, iron, copper, timber, coloured mortar, insoluble efflorescence and smoke. It is also suitable for rejuvenation old brickwork and pavements affected by dirt and soot"
Pave-Lock is a lightly bonded jointing sand specially formulated for the  filling of  joints between segmental pavers.  Recommended to be used on flexible pavements, it is swept into joints and transforms into a hardened state after saturation with a water mist. Pave-Lock is regarded as a superior product to similar products.
Features & Benefits
• Helps retain integrity and stability of joint.
• Resists wash out after 30 minutes setting.
• Retards weed growth.
• Is quick and easy to apply.
• Minimises wind-blown joint erosion
Ensure that you read application instructions before use.
Specialist tool for applying pointing mortars and grouts. The perfect solution for pointing / grouting our range of Countrystone reconstituted sandstone fascia.
An effective way to grout pavers without smearing the mortar, causing hard to remove mortar / grout stains.
Developed for repointing brick and masonry joints. Also suitable for natural stone.
Paving Plus also supplies cement based adhesives for landscaping and tiling needs